The Leipzig based company Terracon Energy GmbH combines a traditional diesel generator with a wind turbine and a photovoltaic device for mobile electricity production. Using renewable energies brings a significant reduction in operating costs. 01/2009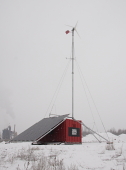 Water treatment plants, research installations and mobile phone stations depend on a reliable power supply in areas where access to the grid is impossible or very expensive. Diesel generators are usually used in situations like this, but wind turbines and photovoltaic devices are becoming increasingly popular. Leipzig based company Terracon Energy GmbH has now developed an "Energy Container" that combines these three elements for mobile electricity production. Under Central European weather conditions, a 15-metre high wind turbine generates most of the electricity, while a photovoltaic device contributes a smaller proportion. These deliver electricity to the user and charge a nickel cadmium battery that provides the user with stored electricity when there is not enough wind or sun available. If the charge state of the battery drops to a low level, a diesel generator starts up and provides the necessary electricity.
'Depending on the site of installation, up to a third of the electricity is produced by the diesel generator,' explains Managing Director Frank Petersohn, who puts the cost of the electricity produced in central Europe at just under one euro per kWh. According to his calculations, the cost would drop to around 30 cents at a coastal location in South Africa. Petersohn says that using renewable energies brings a significant reduction in operating costs: 'A diesel-only system running for 20 years would cost twice or three times as much.'
There are two standard models of the container, with continuous outputs of 5 and 15 kW respectively. However, Terracon can also adjust the design of the plant to the wind and sun conditions at the target location. It purchases the individual plant components, including solar modules, wind turbines, generators and batteries, from specialist manufacturers. Setting up the interaction between these very different components so as to achieve a stable current flow to the user and make the system as efficient as possible was the biggest challenge in the development of the Energy Container, says Petersohn. 'The control system is crucial. We have invested a lot of time and effort in developing it, experiencing several setbacks along the way. We are constantly improving the design of the system and adapting it to specific applications.'
The Energy Container can be transported to its destination by ship, truck or helicopter and installed without the need for foundations. The wind turbine and photovoltaic device are also delivered inside the container. 'It takes two people six hours to install the system,' says Petersohn. The standard version of the container has capacity for 2,100 litres of diesel and can be designed for refuelling intervals of three to five years, while servicing intervals are shorter.
For series production of the mobile hybrid power plant, Petersohn and his fellow manager, Petra von der Heide, established Terracon, with headquarters in Leipzig, in January 2008. Manufacturing of the containers began in October, in small quantities at this stage, but that is not nearly enough for Petersohn. 'Demand is very good. Large numbers are required for Africa, South America and eastern Europe.' Terracon is therefore preparing to manufacture up to 200 containers per year. Further manufacturing capacity will be on hand via cooperation partners in the future.
Terracon's potential customers include mobile phone networks, which require radio masts in isolated places. For one of these customers the company is currently manufacturing a sophisticated plant with three times the usual quantity of solar surfaces. It is also examining the use of fuel cells. In a second container are additional batteries installed, increasing the storage capacity for solar and wind power.
Terracon Energy Container
| | | |
| --- | --- | --- |
| | TC Basic 5 | TC High Power 15 |
| | | |
| Peak output | 10 kW | 30 kW |
| Continuous output | 5 kW | 3x5 kW |
| Photovoltaic | 1.63 kW peak | 1.63 kW peak |
| Diesel generator | 4.5 kW | 15 kW |
| Batteries | 40 kWh | 40 kWh |
| Diesel tanks | 2,100 l | 2,100 l |



Read also:

The sun is shining on PV in Saxony

Solar modules head for grid parity

Sunny prospects for solar heating